Advanced Teacher Training
Svaroopa® Yoga classes are offered on three continents.. Our training and standards support your high quality of teaching through the precision of our practice, rightly called "laser-beam yoga."
You will walk away with a degree of personal and professional self-confidence and self-empowerment that will surprise you."  - Kris M. 
A 500-hour RYT in Svaroopa® Yoga has the equivalent of a bachelor's degree in yoga.  When you begin Advanced Training, it's like you are doing graduate work, benefitting both you and your students.
Click here for our comprehensive ATT Catalog. 
Yoga Classroom Therapeutics Certification (YCT)
Learn amazing techniques to help students who have trouble in the poses during yoga class.  Specialized propping, pose angles and especially adjustments — amazing adjustments! 
YCT deepened my understanding of the poses.  I now know how to apply alignments, adjustments and propping with my students and within my own practice.  – Peggy S.
Everyone in your class will benefit from your expanded ability to see what their body needs and provide personalized help or instructions that move them through their blocks.
Yoga Texts Studied: Sutras selected from various texts. 
Certified Deeper Yoga Teacher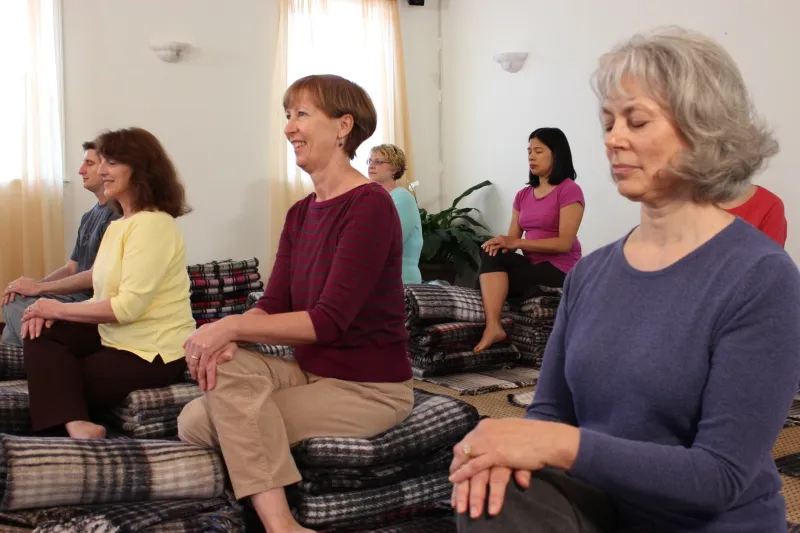 This advanced course gave the most amount of insight I've ever gotten in all the trainings I've taken.  Studying the Yoga Sutras, working on the poses, meditation and japa gave me an amazing level of clarity and ability to assimilate the teaching with more ease.  - Julia W.
Teach powerful new poses and variations as well as learn amazing new adjustments.  Offer contemplations directly from Patanjali's Yoga Sutras, significantly expanding your students' understanding of yoga and of themselves.  Take your continuing level students to new depths.  Inspire your more dedicated students in deliciously longer Deeper Yoga classes.
Yoga Text Studied: Patanjali's Yoga Sutras 
Certified Vinyasa Teacher
Teach our Warrior Vinyasa and other themed pose series, continuously moving sequences linked with your breath.  Develop more strength and flexibility while deepening your spinal decompression and you inner state — a whole new way to live in your body and in the world.  Learn to teach advanced practices as a consciousness-flow rather than a mere physical feat.  It is physical.  And it is more than physical.
Yoga Text Studied: Bhagavadgita 
Certified Beginners Bliss Yoga Teacher
Dive into the most advanced level of Svaroopa® yoga, beginning with the first stage: Beginner's Bliss.  Deliver your students into the bliss of the Self through a specialized class format, as well as pose variations and advanced adjustments.  Develop and sustain your own yogic state while you are teaching.
Yoga Texts Studied: Vijñana Bhairava, Vivekachudamani and Narada's Bhakti Sutras 
Certified Advanced Bliss Yoga Teacher
Lead students deeper into bliss than ever before, especially with the new subtleties for their yogic breathing practice.  Further your ability to guide others while you are in your own state of inner bliss.  Transform your students' minds and hearts by opening their bodies, minds, and hearts simultaneously.  Further develop their yogic state with poetic and beautiful contemplations.
Yoga Texts Studied: Vivekachudamani and Narada's Bhakti Sutras 
Certified Advanced Svaroopa® Yoga Teacher
Dive deeper! Always dive deeper – each course is an exponential expansion of what has come before.  - Cayla A.
Develop increasing mastery over your body and lead your students to a whole new level of health and vitality.  The teaching themes you study and share at this level are dramatically more effective, both for physical change as well as increased spiritual depth and resonance.
Yoga Text Studied: Shiva Sutras
For more information or to get support in creating your Advanced Teacher Training plan, please contact our Enrollment Advisors at 610.806.2119 or Turn on Javascript!. 
Svaroopa® Yoga
The quality of life is not based on how much you do but on how much you let go; not on how far you go, but on how open and easy you are. 
Svaroopa yoga dissolves physical limitations as well as mental, emotional and spiritual blocks, to open up the way you live inside your own skin.