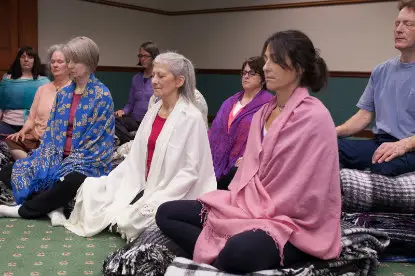 Chanting & Meditation Weekend
On-Site
March 7 - 10
Lokananda Retreat Center, Downingtown PA
Also available Online.
Singing is a way for you to express your heart, but chanting is how you express your spirit.  Yoga's amazing technology includes chanting in Sanskrit, providing a direct route to inner bliss.
Spend the weekend immersed in the music of yoga.  Plumb the heights of Consciousness and the depths of your own being, carried by the sound current hidden in the mantras we sing.  Best of all, chanting opens up the inner realms of your own Beingness.  Discover how sweet and how deep meditation can be after each chant.
From beginners through advanced yogis, you will be delighted at how easy this yoga practice is, called bhakti yoga, the "Yoga of the Heart."  Every step of the way, you'll be filling your heart and home with these Divine sounds, through the sound of your own voice, blended with Swami Nirmalananda and our Ashram's other swamis and chanters.
TAUGHT BY
Gurudevi Nirmalananda & Swami Samvidaananda 
DETAILS
Prerequisites
None
Dates & Times
ON-SITE RETREAT:
Thursday March 7 2024 begins with Dinner at 5:30 pm with retreat going from 7:00 - 9:00 pm
Friday March 8 from 5:15 am - 9:00 pm with Breakfast, Lunch, Snack and Dinner included
Saturday March 9 5:15 am - 9:00 pm with Breakfast, Lunch, Snack and Dinner included
Sunday March 10 from 5:15 am - 12:30 pm with Breakfast, also including Lunch (served at 11:45 am)
ONLINE Q&A:
Tuesday March 12 from 4:30 pm - 5:30 pm (Eastern Time)
Location
Lokananda Retreat Center
116 E. Lancaster Ave, Downingtown PA
Online option is available here.
Course Confirmation Date
February 23 2024
We confirm the course on or before this date, when we have enough enrollments to confirm. Early rates are available until this date. We will email you with the latest updates.
Tuition
TBA
Postponed H&M: Postpone your Housing & Meals until just before your arrival. Pay for your tuition (early or standard), DTS & materials now, then pay for your Housing & Meals 1 week before your program begins. Contact our Enrollment Team at 610-806-2119 or email.
More Info
Our Enrollment Advisors will be happy to connect with you and answer any questions - programs@svaroopayoga.org or 610.806.2119

When events beyond our control cause unavoidable changes, locations and fees are subject to change without notice.
Svaroopa® Yoga
Expressing the inexpressible, singing the Divine Name invokes your experience of your own Self.