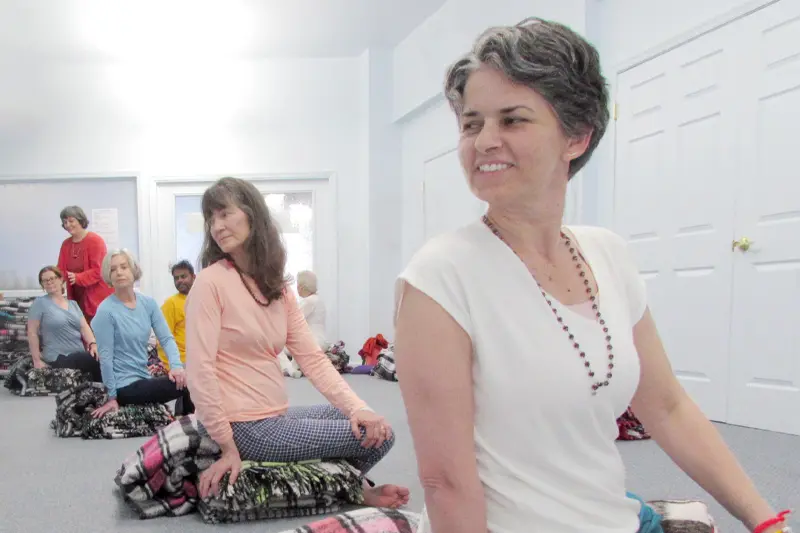 FREE Open House
Saturday April 15
2:00 - 5:00 pm 
Downingtown Yoga & Meditation Center 
Come find out what happens in a yoga and meditation center. Our Open House is an informal event with snacks and music, a tour of our classrooms and even some yoga sampler classes. 
You can come at any time throughout the afternoon, whatever works with your schedule. Or time your visit to try a yoga sampler, a quick and easy class. All yoga props are provided. 
2:30 - 3:00pm – The Magic 4 (chair poses) 
3:30 - 4:00pm – Yogic Breathing & JP (reclining, relaxation poses)
4:30 - 5:00pm – Intro to Meditation 
We'd love to meet you. Bring friends and kids or come on your own (but no pets, please). Find out how easy it is to feel good. Get to know our teachers and some other students. Be inspired by their stories and their open hearts. 
Bring your questions so we can tell you how yoga approaches things. We'll share a cup of yogi tea and some home-baked treats. We'd love to make new friends on this day – will you be one of them? 
TAUGHT BY
Swami Satrupananda & Swami Prajñananda 
DETAILS
Prerequisites
None
Dates & Times
Saturday April 15 2023
Come anytime from 2:00 - 5:00 pm
Location
Downingtown Yoga & Meditation Center
116 E. Lancaster Ave, Downingtown PA
Tuition
Free
More Info
If you cannot make this day and time, check out our next date for our FREE Open House on June 18 here.
Our Enrollment Advisors will be happy to connect with you and answer any questions - Turn on Javascript! or 610.806.2119

When events beyond our control cause unavoidable changes, locations and fees are subject to change without notice.
Svaroopa® Yoga
We meet you where you are, customizing the pose to your needs. Melt away the pain, tension and years to come alive, supple and strong