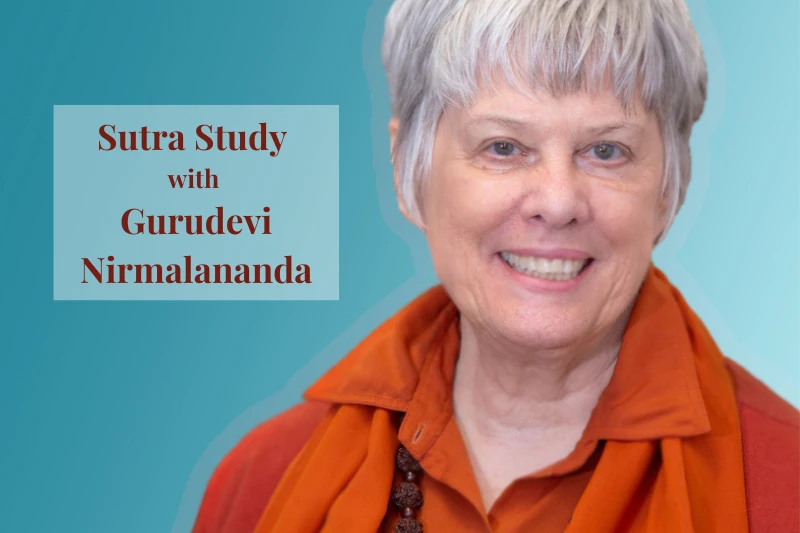 Living Sutras
Sutra Study with Gurudevi Nirmalananda
Begins Thursday May 25
7:30 - 9:30 pm (Eastern Time)
Online
This course is about your life and how yoga improves it. Learn how yoga makes the changes — it's an inside-out process.
The great masters explained it clearly in their texts and oral teachings throughout the ages. In this course, Gurudevi teaches sutras that help you navigate your way with clarity and compassion toward others as well as toward yourself. 
This series includes six classes, with 3-5 sutras on each topic.
Each class includes Gurudevi's discourse, followed by a group discussion. Next she leads a meditation based on the principles she covered. Then comes a sweet sharing of meditation experiences. The class ends with you getting a homework assignment, a way to apply the yogic principles to your life so you are "living the sutras."
During the 2-3 weeks between classes, you email a report of your homework experience to everyone else. And you get emails from all of them. In this way, everyone in the group is contributing to everyone else's growth and learning. 
In our online class sessions, both video and audio participation are required, as the class is interactive. Gurudevi needs to be able to see your questions budding up or the bliss shining across your face.
If the day and time don't work for you, you may watch a video of Gurudevi's discourse as well as your homework assignment. In this way, you can pace with the group and make your contribution to the email discussions. In other words, "No lurkers!" Your email contribution on each topic qualifies you for participation in the next one. They are an important part of your learning and growth process while they support others, especially if you cannot attend the class sessions in person.
These teachings are not about what you should be doing. Instead they explain how yoga works. When you understand the cause-and-effect process, you can make your choices with clarity and purpose. As a metaphor, it's like the sutras explain breathing. You are already breathing, but when you understand it, you get so much more out of it. The sutras shine light on every area of your life. Find out how. 
TAUGHT BY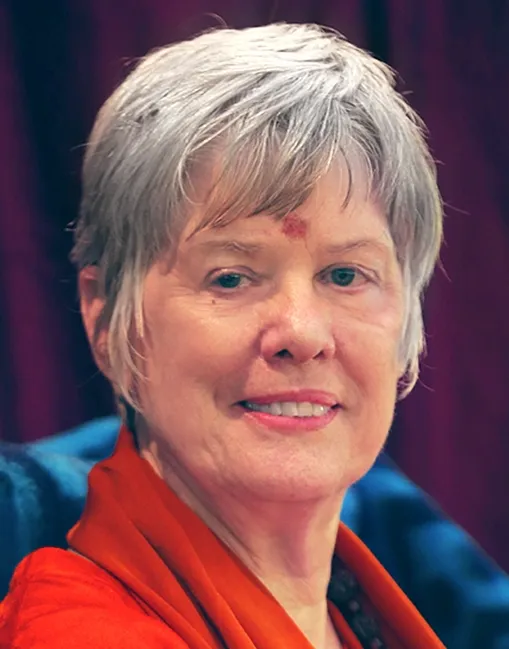 Gurudevi Nirmalananda
DETAILS
Prerequisites
None
Dates & Times
Thursday May 25 2023 from 7:30 - 9:30 pm (Eastern Time)
Thursday June 8 from 7:30 - 9:30 pm 
Thursday June 22 from 7:30 - 9:30 pm 
Thursday July 6 from 7:30 - 9:30 pm 
Thursday July 27 from 7:30 - 9:30 pm 
Thursday August 10 from 7:30 - 9:30 pm 
Location
Your online connection link will be emailed to you after you enroll. It comes the day before or the day of the program.
Video and audio participation are both required, as the class is interactive. We need to be able to see your questions budding up or the bliss shining across your face. 
Course Confirmation Date
May 18 2023
We confirm the course on or before this date, when we have enough enrollments to confirm. Early rates are available until this date. We will email you with the latest updates.
Tuition
Early Tuition (on or before May 18 2023): Members*: $461.00; Non-Members: $511.00
Standard Tuition: $561.00
*Memberships that qualify for the discounted early rate: SATYA Membership
More Info
Our Enrollment Advisors will be happy to connect with you and answer any questions - Turn on Javascript! or 610.806.2119

When events beyond our control cause unavoidable changes, locations and fees are subject to change without notice.
Svaroopa® Yoga
Follow the breadcrumb trail laid out by the tantric sages. It guides you inside to your own Divine Is-ness, while explaining the process and goal.