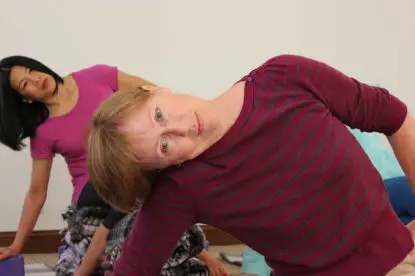 Teaching Online Therapeutics D
Begins Tuesday March 28 - CANCELLED
Online
Guide your students through radical and profound physical improvements even when you cannot do hands-on adjustments for them. Learn pose variations that provide targeted spinal release even when you cannot help them with their alignments and propping. Is it really possible? 
It IS possible. These pose variations are reliable and deeply effective. They employ detailed verbal descriptions, breath and movement patterns and/or activation of arm and leg muscles. The result? Multi-layered spinal release without hands-on adjustments.
I've had the luxury of being able to touch my students for almost 40 years. It's so easy to help them get the deeper openings when I can realign their knee or arm! What a challenge, to give them the deeper release, even when they're not well aligned. It's a whole new teaching protocol. — Gurudevi Nirmalananda
There are only four class meetings in each module. You learn one pose in each online class meeting, for use in your online classes: 
week 1 — tailbone pose
week 2 — sacrum pose
week 3 — pose for your spine through your waist area
week 4 — rib cage pose
You study the pose deeply, reviewing the basics then moving into techniques previously taught only in advanced levels of ATT and Yoga Therapist Training. Your handouts come by email (more info below in Handouts). Print them out before class so you can easily take notes.
These poses can be used in a group class or private session, both online as well as for in-person classes. You must be teaching online to successfully complete this training. Your DTS (Develop Your Teaching Skills) group meetings support your application of new skills in your online teaching.
The poses are interesting and effective. Learning something new re-inspires and reinvigorates me as a teacher, as well as my students. — Margery A
There are four Teacher Trainings in total (A, B, C & D), each one giving you four more poses to use. As you move through them, you expand your teaching options and your professional expertise simultaneously. Best of all, you get the deeper openings for yourself, making the physical changes your body still needs while opening up the experience of svaroopa, your own Self.
The series of all four trainings gives you 16 poses, equivalent to a week of immersion Teacher Training. Successful completion of the four trainings, with their related DTS programs, renews or reinstates your Current Standing.
TAUGHT BY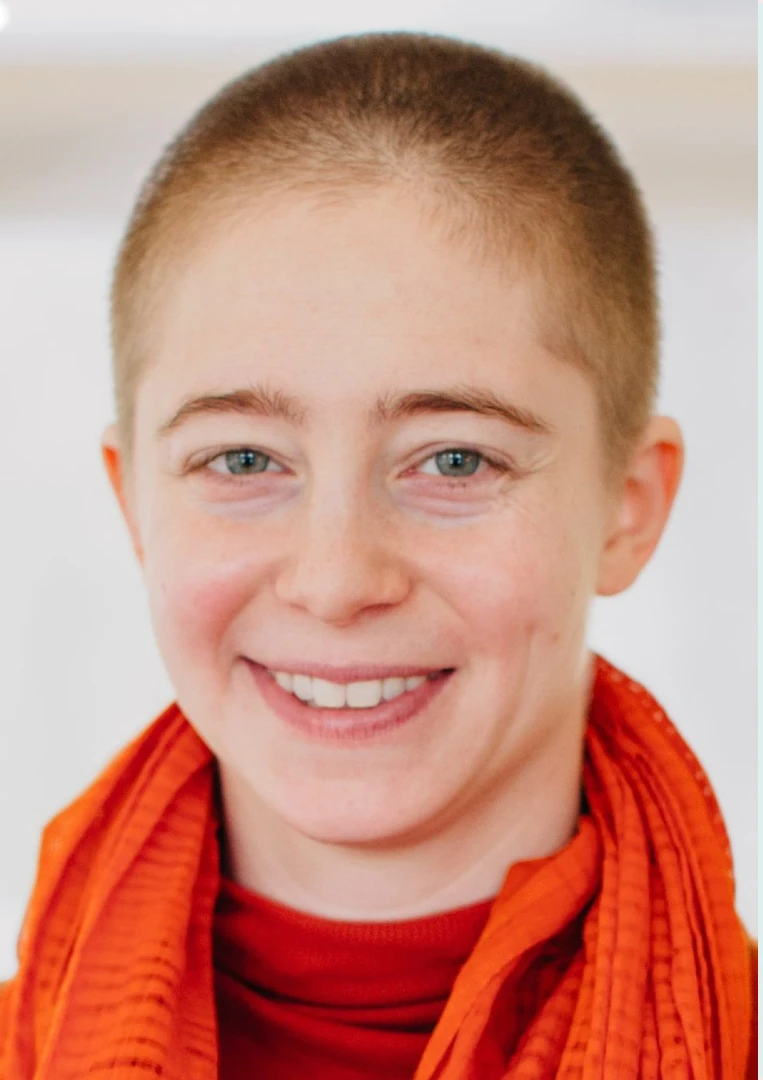 Swami Prajňananda
DETAILS
Prerequisites
Svaroopa® Yoga YTT 1, Teaching Svaroopa® Yoga Online, SATYA members, Currently teaching online classes
SATYA Members
Successful completion of all four trainings will maintain or reinstate your Current Standing status for Continuing Education.
Dates & Times
 This module is cancelled due to low enrollment. Join us for Section C beginning 4/3.
Location
Your online connection link will be emailed to you after you enroll. It comes the day before or the day of the program.
Video and audio participation are both required, as the class is interactive. We need to be able to see your questions budding up or the bliss shining across your face. 
Course Confirmation Date
March 18 2023
We confirm the course on or before this date, when we have enough enrollments to confirm. Early rates are available until this date. We will email you with the latest updates.
Tuition
Enrollment Fees include course tuition and DTS, with details on each below.
Early Tuition (on or before March 18 2023): Members*: $381.00
Standard Tuition: $461.00
DTS: $71.00
Total Enrollment Fees:
Early Totals (on or before March 18 2023): Members*: $452.00
Standard Totals: $532.00
Handouts: Your handouts come by email as e-docs. For the best learning experience, print them out before your class so that you can take notes effectively. For Online Teacher Trainings, we provide pdf handouts. For onsite Teacher Trainings, we provide printed handouts. Teacher Trainings being online are a response to the pandemic. The availability of these trainings and e-doc handouts is subject to change without notice.
*Memberships that qualify for the discounted early rate: SATYA Membership
More Info
Our Enrollment Advisors will be happy to connect with you and answer any questions - Turn on Javascript! or 610.806.2119

When events beyond our control cause unavoidable changes, locations and fees are subject to change without notice.
Svaroopa® Yoga
You really can take charge of your own healing for most conditions, or use yoga as a valuable adjunct to your medical care.