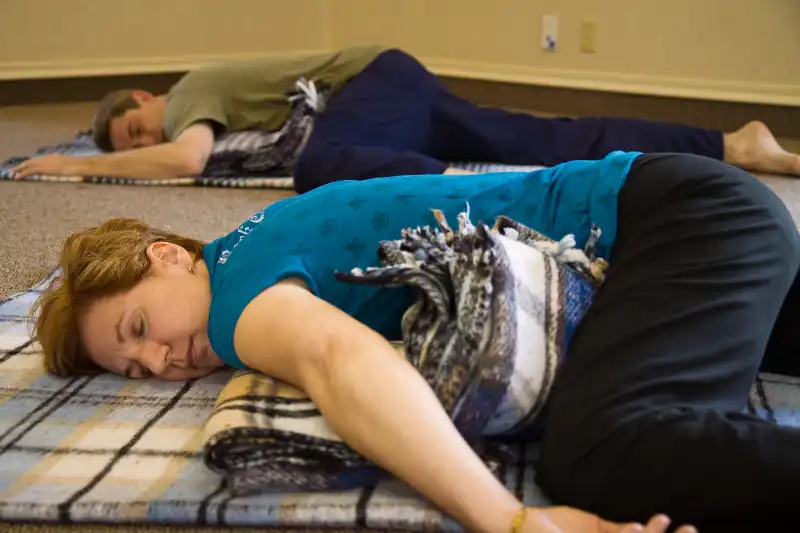 Therapeutic Yoga Series 
Yoga Therapy in a Small Group
Begins Tuesday May 23 
3:00 - 4:30 pm (Eastern Time)
Online
Accelerate your healing process in our three-week therapeutic class series. Join with one or two other students twice weekly for more personal attention than a regular class provides. Learn things you can do for yourself between the classes, further improving your progress. 
Yoga is well-known for its healing power, as cited in a Sanskrit text from 1,000 years ago:
Yoga poses make one firm, free from maladies and light of limb. - Hatha Yoga Pradipika 1.17
Every class includes an intake interview, individual assessment, personalized Svaroopa® yoga poses, evaluation of outcome, and guidance for your at-home healing practices. Your therapist follows up with you between classes to answer your questions and further support you in the process.
This yoga took pain therapy to an entirely new level for me. Please pass on my compliments as you see fit. I certainly have a better appreciation for yoga. - Stan N.
I have been working on my leg pain. It has been very helpful, and I will continue on. - Jerry B.
FAQs (Frequently Asked Questions)

How is this series different from other Svaroopa® Yoga classes?
This is yoga therapy. The focus is on healing — yogic healing — which is multi-dimensional healing. Your teacher is a yoga therapist. She will not be teaching you poses like you see in yoga videos, but will be guiding you through therapeutic yoga practices specifically for your needs. She is focused on your healing goals.
How many classes do I get in the series? How many people in my class?
Your series includes 2 classes per week for 3 weeks, a total of 6 classes. Class size is limited to two or three students, so you get the personal attention you need. By participating in small group therapeutics, you get the results of private sessions but at less than half the cost.
Once you enroll, you will get a call from one of the teachers (after the Course Confirmation date). She will interview you about your needs and goals, so you can be grouped with other students needing similar therapeutics. In this way, you will be assigned to a therapeutics group and teacher.
How long is each of my classes?
Each class is 90 minutes, like most Svaroopa® yoga classes. This does last longer than our usual 60-minute yoga therapy session. The extra time is so your yoga therapist can take care of two or three students at the same time. This means you sometimes have a brief wait while your yoga therapist is assisting someone else. The longer session also provides for you to have the full Shavasana-Guided Awareness experience at the end of each class.
What about my privacy in a group setting?
Your personal details are treated with the greatest confidentiality. In class, your teacher will make generalized comments like, "This pose helps with neck problems." If you have neck problems, you know that she is talking to you. All discussions about your personal needs are done in a separate phone call or in a private breakout session during the class.
You may also find that the others in your group are supportive of anything you might choose to share. Just as you enjoy supporting others, they feel the same toward you. Being able to support others as well as to accept support is a powerful pathway to healing.
TAUGHT BY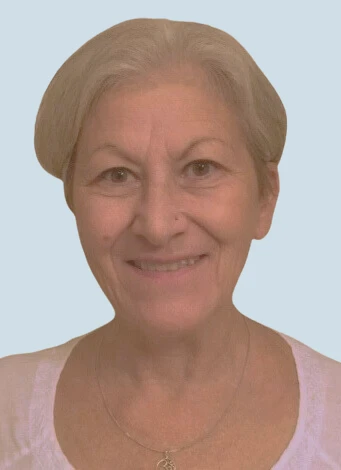 Swami Prajñananda & Cayla (Mangala) Allen
DETAILS
Prerequisites
None
Dates & Times
Tuesday May 23 2023 from 3:00 - 4:30 pm (Eastern Time)
Friday May 26 from 3:00 - 4:30 pm
Tuesday May 30 from 3:00 - 4:30 pm
Friday June 2 from 3:00 - 4:30 pm
Tuesday June 6 from 3:00 - 4:30 pm
Friday June 9 from 3:00 - 4:30 pm
Location
Your online connection link will be emailed to you after you enroll. It comes the day before or the day of the program.
Video and audio participation are both required, as the class is interactive. We need to be able to see your questions budding up or the bliss shining across your face. 
Course Confirmation
May 21 2023
We confirm the course on or before this date, when we have enough enrollments to confirm. We will email you with the latest updates.
Tuition
Standard Tuition: $351.00
More Info
Our Enrollment Advisors will be happy to connect with you and answer any questions - Turn on Javascript! or 610.806.2119

When events beyond our control cause unavoidable changes, locations and fees are subject to change without notice.
Svaroopa® Yoga
Yoga is about bliss. Life is about bliss. You have been seeking bliss through pleasure, yet true bliss arises from within your own being. Svaroopa® yoga's spinal decompression removes the inner blocks so you experience what the sages promise you: svaroopa - the bliss of your own being.