Vichara Therapist Training
November 27 - December 3 
Lokananda Retreat Center, Downingtown PA 
Learn to use your mind in a whole new way through our guided self-inquiry process named "vichara". Apply your new skills to helping others with their internal process as a Certified Vichara Therapist. You will be able to offer private sessions that support them in finding their own answers to the questions in their life.
More than any other yoga technique I have learned from SVA, this one reaches the deepest and is the most effective. – Valerie L.
The mind is very tricky! Vichara clears the "stuff" out of mind and heart. Better yet, vichara endows your mind with a yogic perspective that creates clarity and ease in your life. This professional training first trains you to delve deeply into your own issues, tracing difficulties to their source in order to clear them away. Once you've gone deeply into yourself, you learn how to truly hear other people in a new way and to help them with their mind.
The first day home after the training my mind was quiet, my state was steady and non- reactive, and my focus was clear and my actions effective. I have laughed more in the last few days than it seems I have in years. - Maria S.
Vichara is a listening process. As a client, you are "heard" in a way that is rare in life. At each level that you explore, your Vichara Therapist offers you a question to dig a little deeper, ultimately allowing you to recognize your own Divinity. Vichara is a Consciousness practice.
Working with the mind is such an important part of our practice. I never realized Vichara could be another tool to access Consciousness. Working with the mind to get past the mind is a unique and fascinating process! - Kris C.
As a trained therapist, you listen deeply and question gently. Your clients uncover and unravel the hidden causes of suffering, which are well described in the yogic texts. A private vichara session can be done in-person, online or on the phone. It is their own process, speeded up and made easier through these self-inquiry tools. You are supporting and witnessing their blossoming into their own Divinity.
To learn how to truly hear them, your training begins with prerequisites. Learning to deal with the mind is a delicate process that requires not only verbal skills but a yogic state, which you develop in the courses and processes listed in the Prerequisites below..
TAUGHT BY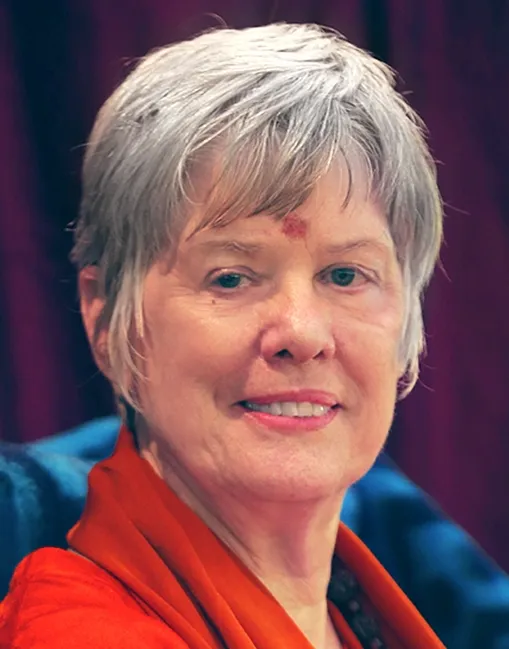 Gurudevi Nirmalananda
DETAILS
Prerequisites
Be a client in two personal Vichara Sessions with a SVA Swami between April – October 2023.
EITHER a Shaktipat Retreat with Swami Nirmalananda OR Learn to Meditate course with a Certified Svaroopa® Vidya Meditation Teacher. Timing: between April – October 2023. This may be done online. If the course was taken earlier, retake it during this time period.
Foundations of Svaroopa® Yoga.
Certified Embodyment® Yoga Therapist. You must complete 25 in-person sessions with paying clients between March – October 2023. Session Log is required.
Certified Discussion Group Leader. This training is available twice in 2023, beginning April 6 and beginning September 5. You must lead at least 5 groups (with 4 or more participants each) between March – October 2023. These may be done online. Attendance lists required.
SATYA Members
Successful completion of this course does not maintain your current standing for your SATYA Continuing Education requirements, as it does not include training in how to teach asana.
Dates & Times
Monday November 27 2023 begins with Dinner at 5:30 pm, with training going from 5:30 - 9:30 pm 
Tuesday November 28 from 6:30 am - 9:30 pm with Breakfast, Lunch, Snack, and Dinner included
Wednesday November 29 from 6:30 am - 9:30 pm with Breakfast, Lunch, Snack, and Dinner
Thursday November 30 from 6:30 am - 9:30 pm with Breakfast, Lunch, Snack, and Dinner
Friday December 1 from 6:30 am - 9:30 pm with Breakfast, Lunch, Snack, and Dinner
Saturday December 2 from 6:30 am - 9:30 pm with Breakfast, Lunch, Snack, and Dinner
Sunday December 3 from 6:30 am - 12:30 pm with Breakfast, also including Lunch (served at 12:30 pm)
Location
Lokananda Retreat Center
116 E. Lancaster Ave, Downingtown PA 19335
Course Confirmation Date
November 13 2023

We confirm the course on or before this date, when we have enough enrollments to confirm. We will email you with the latest updates.
Tuition
Enrollment Fees include course tuition and your housing and meals, with details below.
Early Tuition (on or before November 13 2023): Members*: $1,931.00; Non-Members: $2,121.00
Standard Tuition: $2,331.00 
DTS: $125.00; Materials: $15.00; Housing and Meals: $726.00
Total Enrollment Fees: 
Early Totals (on or before November 13 2023): Members*: $2,797.00; Non-Members: $2,987.00
Standard Totals: $3,197.00
Postponed H&M: Postpone your Housing & Meals until just before your arrival. Pay for your tuition (early or standard), DTS & materials now, then pay for your Housing & Meals 1 week before your program begins. Contact our Enrollment Team at 610-806-2119 or email.
Course fee on enrollment: Members* early: $2,071.00; Non-Members: $2,261.00; Standard: $2,471.00
Housing and Meals payment: 1 week before you arrive: $726.00
Monthly Payment Plan: First payment on enrollment $881.00 plus 16 monthly payments of $165.00, on your preauthorized credit card or bank account. Payment Plan total: $3,521.00
*Memberships that qualify for the discounted early rate: SATYA Membership
More Info
Our Enrollment Advisors will be happy to connect with you and answer any questions - programs@svaroopayoga.org or 610.806.2119

When events beyond our control cause unavoidable changes, locations and fees are subject to change without notice.
Svaroopa® Yoga
Getting beyond what you think you know to discover the deeper knowing, and serving others who want the same.