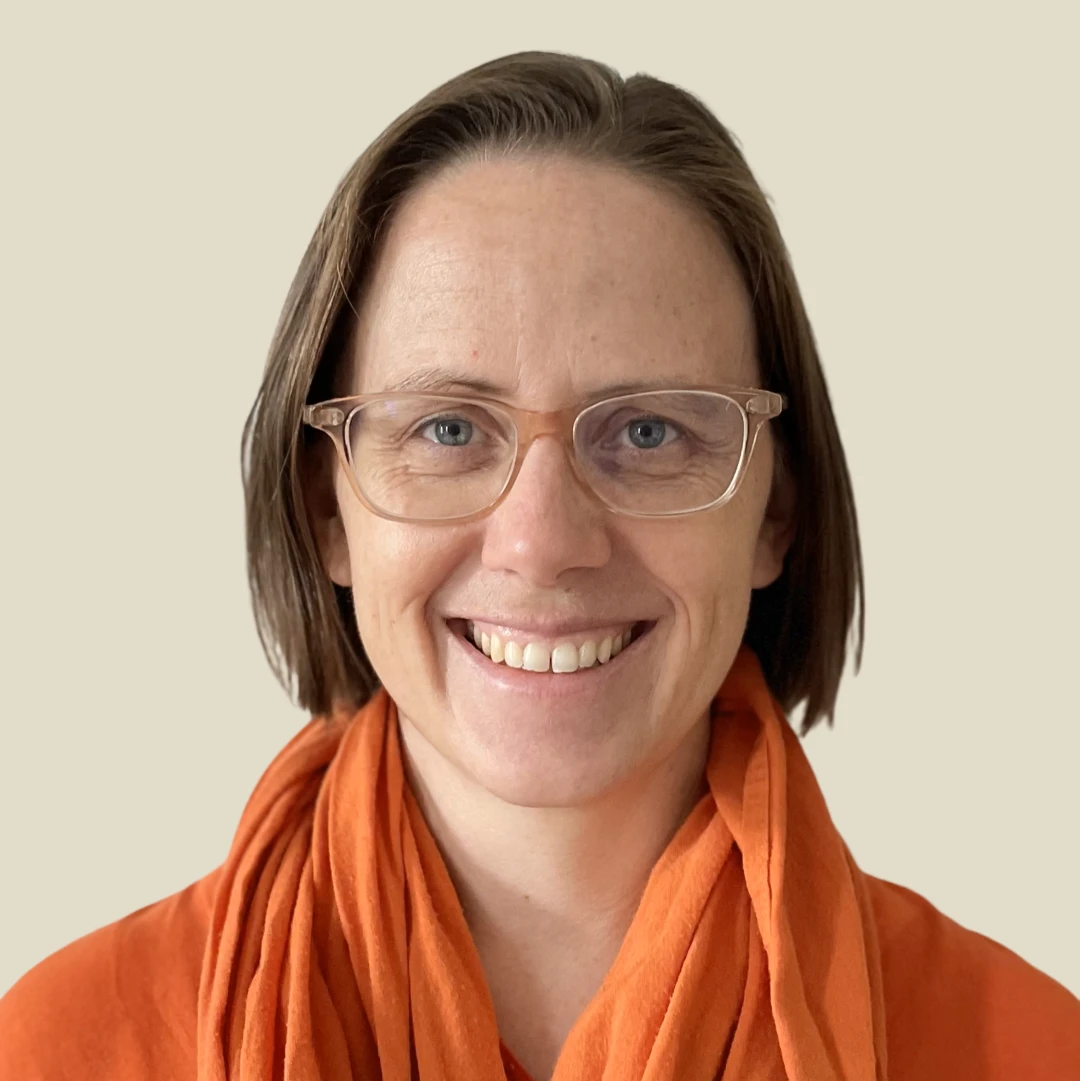 Swami Satrupananda, Business Manager
Swami Satrupananda works closely with the Board of Directors and Gurudevi Nirmalananda, managing the organization's manifestation of our Vision & Mission. As a former SVA Board member, Swami Satrupananda brings deep experience with our operational needs. As a longtime Svaroopi, Swami Satrupananda says, "I am here to serve." She brings her profound knowledge and experience of Svaroopa® practices as well as of our community and organization. Reach Swami Satrupananda at Turn on Javascript! or 610.644.7555.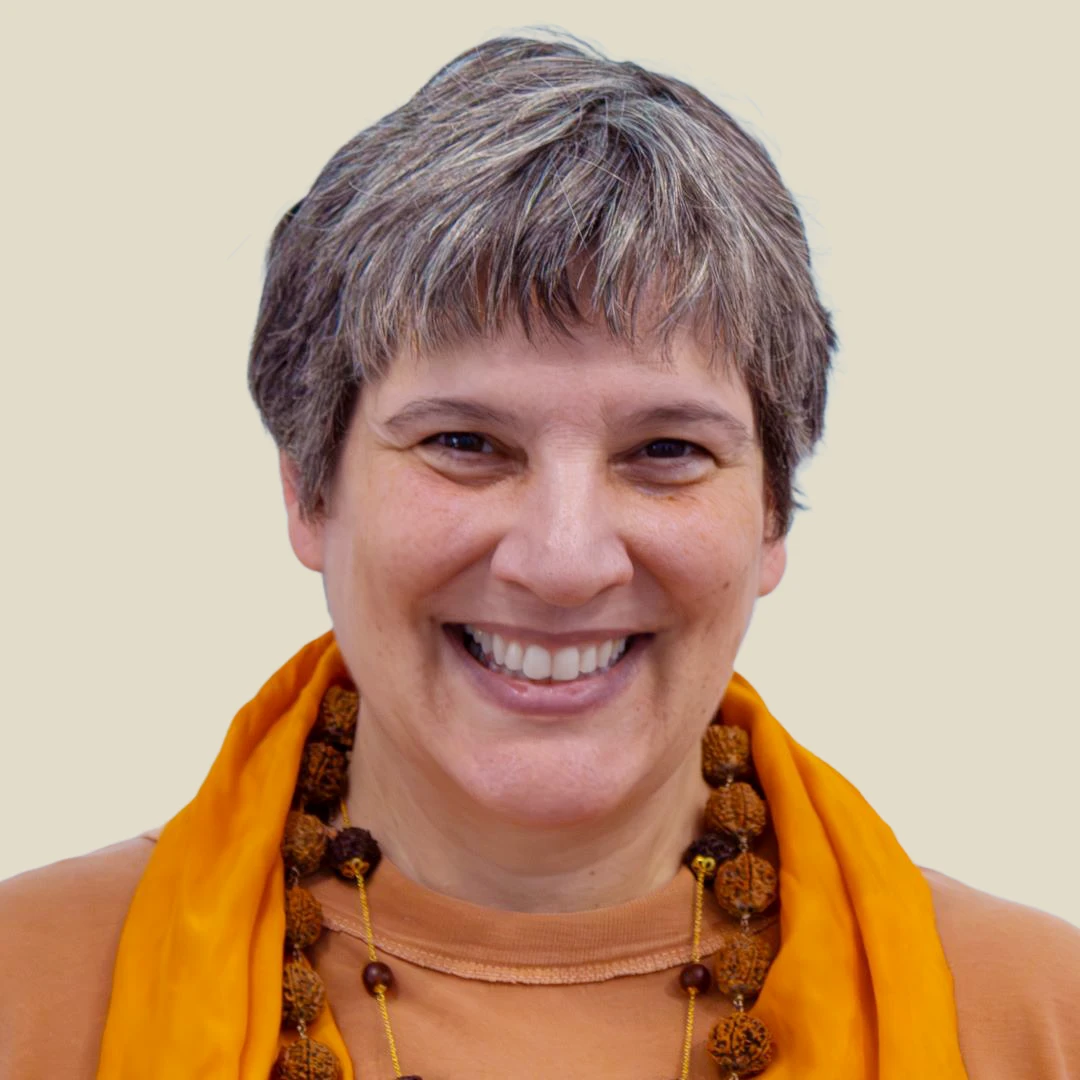 Swami Samvidaananda, Teachings Manager
Multi-tasking is the name of the game. Managing the trainers and calendars as well as our hosted programs and vowed members teams, Swami Samvidaananda makes sure that our programs and teachers are there for you. She also supports Gurudevi Nirmalananda in sharing the teachings and communications. "Serving you allows me to support Gurudevi in doing her job, which is being a source of Grace in our yoga community and in the world through her teachings, her presence, and the initiation she gives. I am devoted to Gurudevi, and to the goal of Svaroopa® Vidya Ashram, which is to give the experience of your own inherent divinity to all who seek it." Reach Swami Samvidaananda at Turn on Javascript! or 610.644.7555.  
Gurupremananda (Lynn) Cattafi, Assistant Manager
Gurupremananda has served on the Ashram Board of Directors since the Ashram's inception. As our Assistant Manager, she supports several of our administrative teams: Guest Services, Shop, Human Resources and Enrollment. She also manages our Garden and Construction teams. "I bring my deep devotion to serving Gurudevi and the work she does in the world into my service to you. My institutional knowledge of the Ashram's facilities and operations, as well as my own deep practices, give me a unique ability to serve wherever I am most needed." 
Doreen Willover, Guest Services Supervisor
Doreen Willover came to Downingtown Yoga and Meditation Center looking for both asana and meditation. Since then she's done lots of both! As our Guest Services Supervisor, she supports you when you come for immersions. Doreen also uses her event planning skills from her previous work experience in her many roles at the Ashram. Doreen says, "I am thrilled to have this beautiful and spiritual opportunity to be a part of the SVA team (family) in the capacity of Guest Services. I look forward to meeting and greeting all our guests for the retreats and promise to provide my very best to all."
Tom Trautlein, Publications Coordinator
Tom makes sure our different publications reach our community with timely information along with meaningful graphics. He oversees a team of staff and many sevites that make this possible. Tom is a Svaroopa® Yogi who brings the necessary skills, attention to detail, humor, personal touch and love for God to the position. He says, "There are seekers of Self-Realization out there that can use support. That's why I am here." 
Sandy (Mukti) Carter, Publications Admin Assistant
Mukti supports our Publications through a variety of administrative tasks. She creates and updates webpages, formats email communications and handles other administrative processes that bring the yogic teachings to you. In addition to her natural affinity for these administrative tasks, Mukti is also a long practicing yogi. She shares not only her skills but her yoga practice with us. Mukti says, "I am thrilled and full of gratitude to have the opportunity to serve Gurudevi and our Ashram community as a member of the Ashram staff. I feel I am receiving so much more than I can ever offer!"
Lauren Kling, Publications Admin Assistant 
Lauren supports our Publications through a variety of administrative tasks. She creates emails, updates webpages, prepares graphics and oversees a large team of sevites. These and other behind-the-scenes tasks help to bring the yogic teachings to you. Lauren has worked in spiritual environments before and is artistically inclined which allows her to bring a diverse set of skills to the Ashram. Lauren says, "I enjoy working with the organization to help Gurudevi grow her vision and mission with marketing."  
Karen (Kumuda) Schaub, Publications Admin Assistant
As part of our Publications team, Kumuda supports the preparation of emails, blogs, social media posts, podcasts, videos and more. She brings to the team her education and work experience in design. Also, as a member of our Vowed Order she brings a depth and commitment to our yogic practices. Kumuda says, "I am delighted to offer my skills in supporting the important work of Gurudevi and SVA in this role. Being part of this yogic community as a student has been incredibly rich.  This experience only grows deeper as a member of the Admin Team."  
Pam Conway, Executive Assistant 
Supporting our Business Manager, Pam is integral to a wide variety of administrative tasks. In this pivotal behind-the-scenes position, she helps Ashram administration run smoothly. Pam has a depth of professional, technical and administration skills that makes this possible. In addition to her expertise, she also lights up the office with her warm and caring presence. A local resident, she says, "So thankful to be a part of the SVA team because it is a welcoming and beautiful environment that also serves my community." 

Swami Prajñananda, Teachings Admin Assistant 
In addition to being a Teacher Trainer, Swami Prajñananda works behind the scenes to make sure everything that's needed for the classroom is ready. Her depth of training makes her able to bring administrative and yogic skills together, to effectively support Gurudevi Nirmalananda's teachings. Swami Prajñananda says, "I'm delighted to continue serving on the Teachings Team, supporting the teachings of the Ashram and its teachers, as well as honored to be one of those teachers."
Andrew Grunwald, AV Assistant 
With his many skills, Andrew helps in many different capacities. He runs our AV system for online programs, as well as recording and editing videos. Andrew shares his love for plants by helping maintain the Ashram gardens. He also contributes to our Guest Services team and supports the office with his technical skills. He says, "It's always great to work with such a wonderful group of energetic staff. I feel like my voice is always heard, and because of that, I'm happy to help wherever I'm needed. I am respected, listened to, and appreciated, so I will always do my best to reciprocate that." 
Scott Moore, Ashram Chef
As our Ashram Chef, Scott will be cooking for you when you come to an immersion at Lokananda. Scott was Head Chef at a local restaurant in Downingtown before he joined us. He has been cooking for over twenty years! He says, "I'm excited to be on the team, as it opens a new chapter for me and my family. I hope to provide the residents and guests of the Ashram nutritious balanced meals that support them along their journey. Namaste."

Kelly McKee, Kitchen Team Member
A steady support, Kelly is one of our Household Assistants. She provides support in many ways that keep the day-to-day activities going. With her years of experience in nursing and language arts teaching, she brings her care and attention to detail into everything that she does. Kelly says, "I feel fortunate to work for such kind people and in such a grace-filled environment". 
Matt Leece, Kitchen Team Member
The Ashram's daily activities run smoother with Matt's heartfelt support. He is a big part of our cheffing, as well as assisting in the gardens and working in Guest Services. You will most likely see his shining face the next time you come to Lokananda! With his background in music and teaching, he brings a focus, enthusiasm and artistry in what he does. Matt says, "Yoga has a way of making you see what really matters. For me that's serving God and coming to know my own Shivaness. I can think of no better place to do these things than here, under the guidance of Gurudevi Nirmalananda. I am so grateful to be a part of this sangha and am eager to honor Shiva and the community in whatever ways I can."

Lisa DeLaurentis, Bookkeeper
Lisa works behind the scenes to track our finances so we operate in a fiscally responsible way. Lisa brings a depth of experience and skill to the position including accounting experience with a non-profit organization. Lisa says the following about her experience at SVA so far, "The people here have been very warm and welcoming. They make you feel special and unique."