Swami Sunday
On-Site & Online
Sundays from 10:00 am - 11:30 am (Eastern Time)
Join Gurudevi for Sunday morning satsang in Downingtown or zoom in from home.
Hear her teachings on Consciousness, on life and on spiritual development.  Soak up the shakti, the Grace-full energy that flows through her.  She describes what she offers in these programs:
"I serve my Guru by sharing with you what he gave to me.  It is a pleasure and a privilege to saturate you in the river of Divine Grace that flows through this yogic lineage of great Masters.  You can soak in the Grace, swim in it, even sink into it as I have done.  My life is filled with Grace and I hope to see yours be the same." - Gurudevi
Her satsangs are free when you attend them in person, whether at home in Downingtown PA or wherever she is teaching around the world.  In addition, over 100 podcasts of her satsang discourses are on our Freebies page to support you.
Online satsangs are available by monthly subscription or for single Sundays.  They have a fee due to our costs in making them available.  
"Swami Sunday in my living room. So so amazing. The shakti was barreling through my computer!!! I am forever grateful." – Ruth B.
Enroll in our Satsang Subscription at least 48 hours in advance of the next satsang so we have time to process your enrollment and email you the connection codes. 
Watch a Swami Sunday on YouTube to see if you're interested in more.
TEACHERS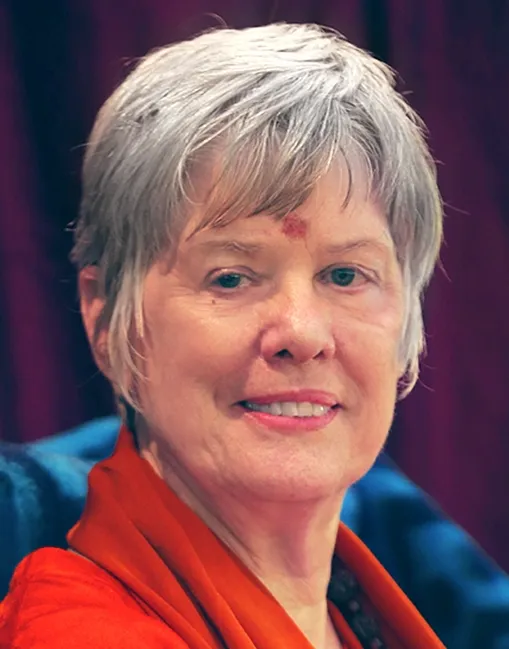 Gurudevi Nirmalananda, Ashram Swamis & Teachers




DETAILS
Day & Time: Sundays from 10:00 - 11:30 am (Eastern Time)
Prerequisite:  None. Everyone is welcome.
Technology Requirements: Install the Zoom app on your mobile phone, tablet or computer.  If you need help getting the technology working, ask our Enrollment Advisor for help..
Subscription Rate:
$20 for a single satsang
$75 for a monthly package.   
Note:  No refunds are available for unused programs.  You may cancel your auto-renewal at anytime.