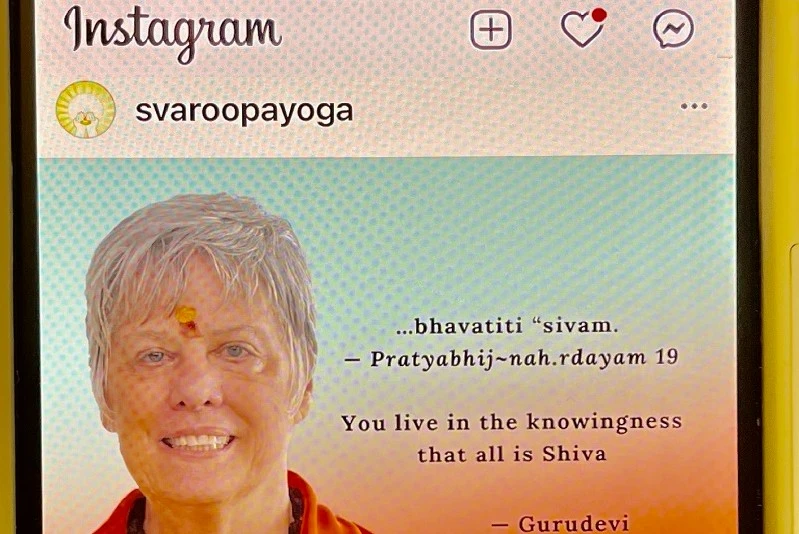 Social Media Yoga 1
Marketing Yoga on Social Media
Begins Wednesday June 14 - CANCELLED
Online 
You are a 21st century yogi, which means you need to reach out on social media – whether you want to or not. This is how things work now. And you might even have fun with it! 
Gurudevi Nirmalananda shares,
In the 1950's, my family visited my uncle who lived on a midwestern farm. He had a phone on the wall with a crank handle to ring up the switchboard in town. You spoke into the tube and held another tube-like object to your ear. He felt he was very modern! Some of his neighbors refused to install the new-fangled device in their home. How are you doing with the changing times?
How to promote your yoga classes has changed. Social media has changed. It's time to get on board. Learn how to effectively market your classes and private therapy practice in a FREE online course exclusively for SATYA members. 
Our instructor is Erin Nettere. Erin is a specialist in teaching others how to be successful on social media. She has a wonderful workbook and course laid out for us. She is also bringing in additional topics that weren't covered in our first round of classes.
Find out which social media platforms are best for you. Learn how to use it safely while genuinely connecting with potential students. Get information for how to maximize your profile, using both photos and words. Find out about different kinds of posts and how to use hashtags. Discover how to be social on social media, in a way that makes your classes easy to find.
This course is part of your SATYA benefits, at no cost to you for your first time through. If you took our earlier course, you may enroll in Erin's class, but there will be tuition for your second time through. 
All the other students will be your fellow Svaroopa® yoga Teachers. The course includes three one-hour Zoom meetings, with a 10-person maximum, so register soon. 
Private sessions are available with Erin at a discount for SATYA Members. Her usual $150.00 rate is discounted to $75.00. Have Erin look up your listing on our Teacher Directory to show her that you are a member.
TAUGHT BY
Erin Nettere 
A boutique digital marketing agency helping wellness businesses shine their light and grow in an authentic and aligned way. 
DETAILS
Prerequisites
SATYA Membership
Dates & Times
This class is cancelled due to low enrollment. Join us for the next class beginning on July 13.
Course Confirmation Date
June 4 2023
We confirm the course on or before this date, when we have enough enrollments to confirm. Early rates are available until this date. We will email you with the latest updates.
Location
Online
Your online connection link will be emailed to you after you enroll. It comes the day before or the day of the program.
Tuition
Free for SATYA members the first time.
Retake Tuition: $108.00 
More Info
Our Enrollment Advisors will be happy to connect with you and answer any questions - Turn on Javascript! or 610.806.2119

When events beyond our control cause unavoidable changes, locations and fees are subject to change without notice.
Svaroopa® Yoga
They need you. They want help. They are looking for you. Make yourself easy to find.