Leading a Discussion Group
Phone Course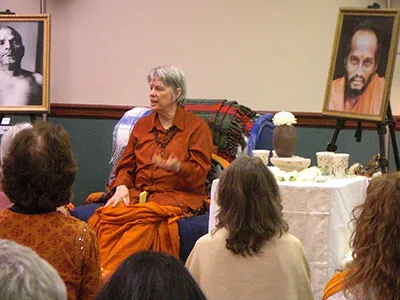 Lead a monthly discussion group and help your students understand the deeper experiences that they are already having. Inspire them to recognize their yoga experiences and carry them into their life. Facilitate their sharing of breakthroughs with each other and with you. Use this program to build and strengthen your yoga community. The relationships they establish in the discussion group will motivate their continuing commitment to classes and deepen their understanding of yoga's application in their life.
Begin teaching the profound principles of yoga philosophy — learning to listen and lead your students through meaningful dialogue. You will lead thought-provoking sessions using Gurudevi's theme articles as the jumping-off point. In this course, Gurudevi trains you to prepare your program, moderate the group discussion, handle controversy and integrate your student's understanding. You will be able to answer challenging questions with confidence, as well as redirect students to their own inner answers, encouraging the practice of self-inquiry as part of their continuing yoga experience. The conference phone calls are not recorded as live participation is essential.


TEACHER
Swami Nirmalananda
DETAILS
Prerequisite: successful completion of Foundations, have taught 12 yoga classes within the 4 months preceding your enrollment, SATYA
Timings: 
This phone course has four phone calls, with you completing homework in the month between the calls. 
It is held every 12-18 months.  Check our calendar or contact our Turn on Javascript! (610.806.2119) for information about the next course.
Svaroopa® Yoga
Svaroopa® yoga jump-starts your inner evolution, leading to the discovery of who you really are.  Grace begins the process, supports you along the way and completes your life's purpose — the inner revelation of your own Svaroopa, your own Divine Beingness, your Self.