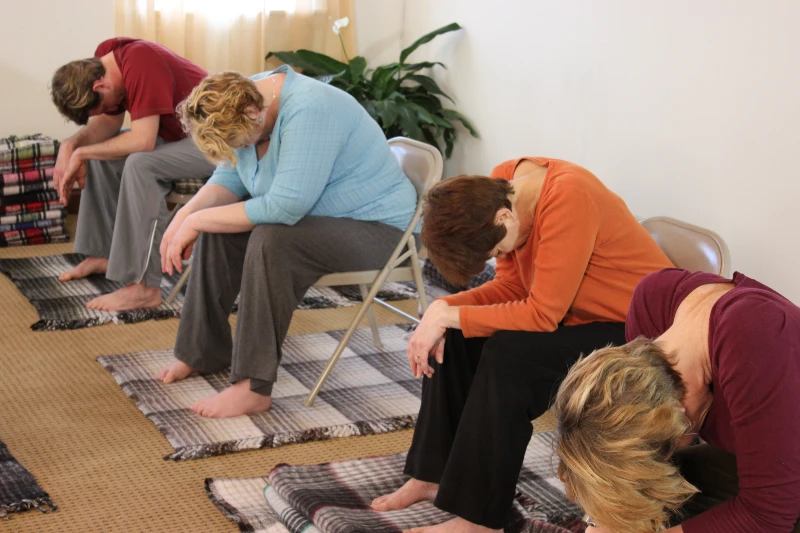 Foundations of Svaroopa® Yoga
43 hours On-Site
CIT Certified Intro Teacher
While working with your body, Svaroopa® yoga opens up the full spectrum of your being. Spiritual insights and profound healings happen without any sweat
Foundations of Svaroopa® Yoga
In this 5-day immersion training, you learn the most important poses, the Primary Spinal Openers. You bring home the inner expansion from a deep yogic experience.  Plus you ahve all the information you need to effectively share Svaroopa® yoga with others.
During the course, your knowledge of each pose builds day by day, pose by pose, especially while working in partner-pairs to give and receive coaching and adjustments in every pose.
I loved that we learned the specifics of each yoga pose, as well as the meditations and chanting, and the intro into philosophy. - Lee T.
Learn hands-on adjustments, props, alignments and teaching methodology for 16 poses. How to design your classes is included, and help students individually so they get maximum results with minimum effort. Also included are meditation, yoga philosophy, anatomy, partner pairing, stories from the ancient sages and an intro to the chanting of Sanskrit texts. 
Your yoga-full days also include your housing, meals, snacks and breaks, with lots of yoga classes and deep guided relaxations. You'll be amazed at how this yoga relaxes and energizes you. It makes you able to learn in a whole new way – organically. Easily.
Details
Prerequisites

None

 

Other Trainings Available after Foundations

 

 

200-hour Yoga Teacher Training


Embodyment® Yoga Therapist Training

 

Trainings for Intro Teacher Certification

 

To Become Certified

When you successfully complete this training, you obtain your formal certification by being a member of SATYA and completing your certification paperwork.