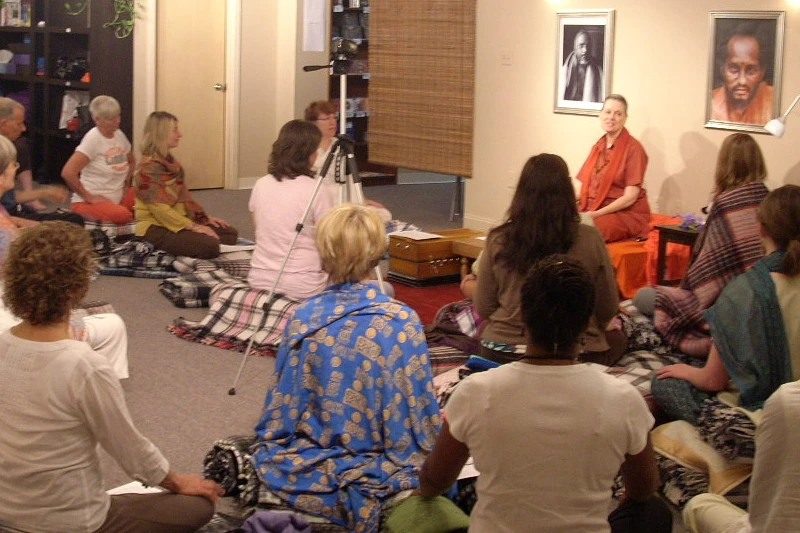 Leading a Discussion Group
Begins September 5 2023
10:00 am - 12:00 pm (Eastern Time)
Online
Lead a monthly discussion group and help your students understand the deeper experiences that they are already having. Inspire them to recognize their yoga experiences and carry them into their life. Facilitate their sharing of breakthroughs with each other and with you.
Use this program to build and strengthen your yoga community. The relationships they establish in the discussion group will motivate their continuing commitment to classes and deepen their understanding of yoga's application in their life.
Begin teaching the profound principles of yoga philosophy — learning to listen and lead your students through meaningful dialogue. After each class session, you will lead your own discussion groups, thought-provoking sessions using Gurudevi's theme articles as the jumping-off point.
In this course, Swami Samvidaananda will train you to prepare your program, moderate the group discussion, handle controversy and integrate your student's understanding. You will be able to answer challenging questions with confidence, as well as redirect students to their own inner answers, encouraging the practice of self-inquiry as part of their continuing yoga experience. The online sessions are not recorded as live participation is essential.
TAUGHT BY
Swami Samvidaananda
DETAILS
Prerequisites
Successful completion of Foundations, .
Preparation
You have taught 12 yoga classes within the 4 months preceding your enrollment.  This gets you "in the groove" as a teacher, while it also recruits students who may be interested in attending your discussion groups.  We will ask you for a list of dates you taught and the number of students in each class.
Dates & Times
Tuesday September 5 2023 from 10:00 am - 12:00 pm
Tuesday October 3 from 10:00 am - 12:00 pm
Tuesday October 31 from 10:00 am - 12:00 pm
Tuesday November 21 from 10:00 am - 12:00 pm
Location
Your online connection link will be emailed to you after you enroll. It comes the day before or the day of the program.
Video and audio participation are both required, as the class is interactive. We need to be able to see your questions budding up or the bliss shining across your face. 
Course Confirmation Date
September 1 2023
We confirm the course on or before this date, when we have enough enrollments to confirm. Early rates are available until this date. We will email you with the latest updates.
Tuition
Total Enrollment Fees:
Early Tuition (on or before September 1 2023): Members*: $231.00
Standard Tuition: $281.00
*Memberships that qualify for the discounted early rate: SATYA Membership
More Info
Our Enrollment Advisors will be happy to connect with you and answer any questions - Turn on Javascript! or 610.806.2119

When events beyond our control cause unavoidable changes, locations and fees are subject to change without notice.
Svaroopa® Yoga
Svaroopa® yoga jump-starts your inner evolution, leading to the discovery of who you really are. Grace begins the process, supports you along the way and completes your life's purpose — the inner revelation of your own Svaroopa®, your own Divine Beingness, your Self.