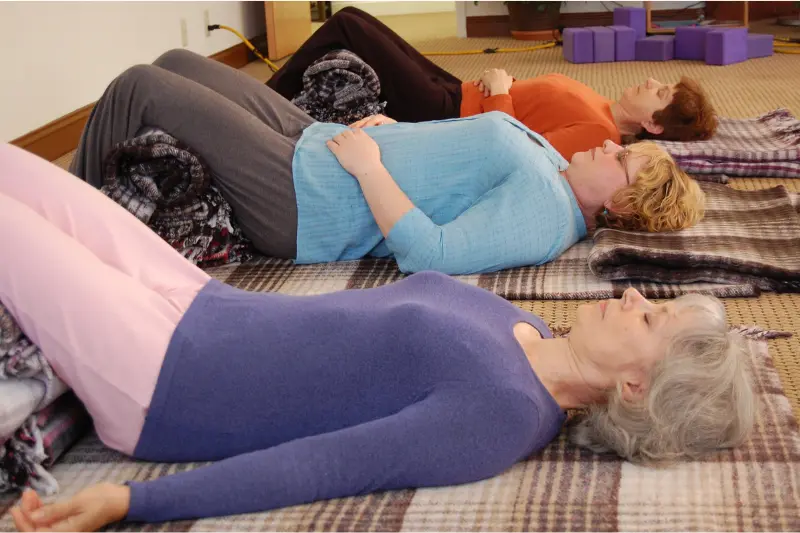 Leading Guided Meditations Training
Begins Monday March 11
7:30 - 9:30 pm (Eastern Time)
Online
Teach a course featuring guided meditations, designed especially for new meditators. 
While guided meditations are popular, they often leave students in a quasi-nap experience. But the goal is Consciousness, not unconsciousness! 
Learn how to bring your students from that starting point to deeper and more powerful inner experiences. You will offer a new course, "Guided Meditations."  It is very accessible for beginners, yet it moves them into silent meditations within four class meetings. 
This training draws from important skills you learned in your prerequisite courses and takes you the next step. Here, you refine your ability to effectively lead others into a deeper inner state and develop their understanding of it.  Learn to lead them outside their comfort zone, supporting and guiding them all the way, as they discover the inner infinity that is the goal of yoga. 
Your 16 class meetings are all online.  It includes your DTS (Develop Your Teaching Skills), which means you will begin teaching your new course while you are in training.  When you complete this course and the concurrent classes (see below), you are eligible to become a "Certified Guided Meditations Teacher."  Click for more details.
The other classes in your certification track are all free. You will be deeply and truly prepared to lead people inward in a whole new way. And they will be inspired to meditate, even to learn more and contine to dive deeper within. 
TAUGHT BY
Gurudevi Nirmalanda & Swami Shrutananda
DETAILS
Prerequisites
Foundations of Svaroopa® Yoga, Shaktipat Retreat, Social Media Yoga 1, and you are a SATYA Member, currently teaching 2 classes per week or more (online or onsite), with 4 social media posts in the 2 weeks preceding your enrollment.  
Concurrent Courses: For certification, while studying in these 16 online class meetings, you must complete these free programs: 
Troubleshooting Your Meditation — be a participant in 3 of these free programs with an Ashram Swami (complete by week 12) 
Yoga Philosophy Discussion Groups — be a participant in 5 of these free programs with an Ashram Swami OR fulfill this requirement with your certification as a Svaroopa® Yoga Discussion Group Leader (complete by week 16) 
Preparation
Practice Ujjayi Pranayama for 20 minutes, twice daily (or at least once daily) for the 2 weeks (or more) prior to the Online training beginning.  In the classes you teach during those 2 weeks, lengthen the Ujjayi Pranayama you lead at the beginning of class from 5 minutes to 10 minutes.
SATYA Membership
Successful completion of the full certification program fulfills part of your Continuing Ed for Current Standing as a Meditation Teacher. It does not contribute to your Current Standing as a Svaroopa® Yoga asana teacher because there are no partner-pairings. 
Dates & Times
Monday March 11 from 7:30 - 9:30 pm (Eastern Time)
Monday March 18 from 7:30 - 9:30 pm
Monday March 25 from 7:30 - 9:30 pm 
Monday April 1 from 7:30 - 9:30 pm 
Monday April 8 from 7:30 - 9:30 pm 
Monday April 15 from 7:30 - 9:30 pm 
Tuesday April 23 from 7:30 - 9:30 pm 
Monday April 29 from 7:30 - 9:30 pm 
Monday May 13 from 7:30 - 9:30 pm 
Monday May 20 from 7:30 - 9:30 pm 
Tuesday May 28 from 7:30 - 9:30 pm 
Monday June 3 from 7:30 - 9:30 pm 
Monday June 10 from 7:30 - 9:30 pm 
Monday June 17 from 7:30 - 9:30 pm 
Monday July 1 from 7:30 - 9:30 pm 
Monday July 8 from 7:30 - 9:30 pm 
Location
Your online connection link will be emailed to you after you enroll. It comes the day before or the day of the program.
Video and audio participation are both required, as the class is interactive. We need to be able to see your questions budding up or the bliss shining across your face. 
Course Confirmation Date
March 7 2024
We confirm the course on or before this date, when we have enough enrollments to confirm. Early rates are available until this date. We will email you with the latest updates.
Tuition
TBA
More Info
Our Enrollment Advisors will be happy to connect with you and answer any questions - programs@svaroopayoga.org or 610.806.2119

When events beyond our control cause unavoidable changes, locations and fees are subject to change without notice.
Svaroopa® Yoga
Like a scuba diver floating in the vastness of the undersea world, meditation is about diving deep.