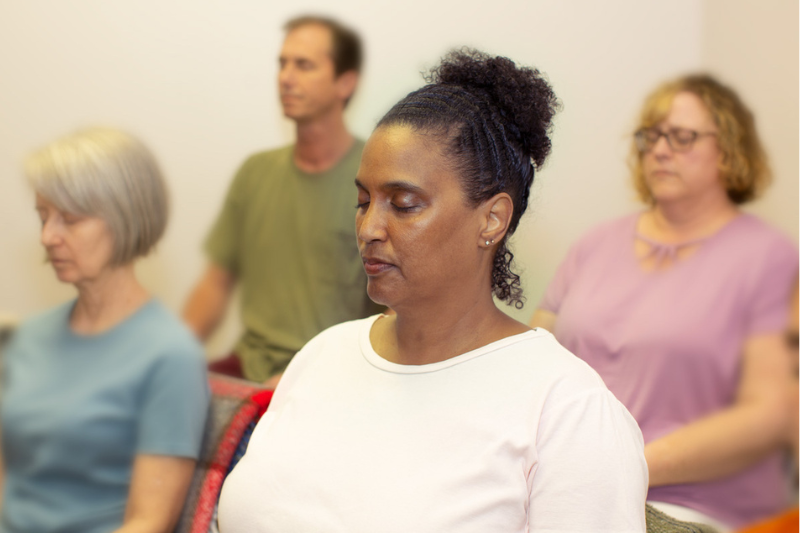 Certified Leader of Meditation Intros
51 hours On-Site & Online
Certified Leader of Intro Meditations
It's the highest teaching you can give to others, the greatest way to serve humankind.
Certified Leader of Meditation Intros
Leading Short Meditations
Learn to lead meditation intros for groups that are new to meditation.  These programs are wonderful community service programs, events to promote your meditation course or as part of a retreat or program taught by another teacher. 
These are the most challenging programs to teach.  While you have a short time, your students are usually a diverse group, some who have training in other meditative traditions.  Their needs and questions can be challenging.  Additionally, you have little control over the environment in which you are teaching.
Yet, in only 30 or 60 minutes, you'll engage the students in a discussion, present the key teachings and principles of Svaroopa® Vidya meditation, teach them how to meditate and elicit their sharings afterward. 
The ease and power of our meditation practice will inspire them to continue at home or to come to you for more training.
This training will help you understand the role that Grace plays in our powerful tradition, thereby making the profound become easy and the mystical become practical.  
Details
Prerequisites

Certified Svaroopa® Vidya Meditation Teacher in Current Standing

You have taught at least three meditation courses in the 18 months preceding the start date of this training.

SATYA Member 

 This training is offered every three or four years.

 

Certification Tracks: This certification prepares you to continue in more advanced levels:: 

Sutra Courses and MeditationTeacher Continuing Ed programs are offered every year.

   

Trainings for Certified Leader of Meditation Intros 

 

Become Certified

When you successfully complete this training with DTS, you obtain your formal certification by being a member of SATYA and completing your certification paperwork.