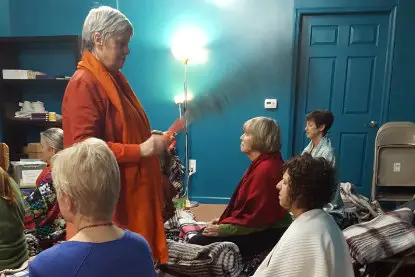 Shaktipat Retreat 
September 29 - October 1
Lokananda Retreat Center, Downingtown PA
Also available Online.
Recognize and revel in your own spiritual essence. Be empowered by a spiritual master who can open your access to the powerful flow of meditative energy within. This profound inward path is revealed when you receive Shaktipat initiation from Satguru Swami Nirmalananda (Gurudevi).
Yo' vipastho'j~naahetu.sca – Shiva Sutras 3.29
Only one with mastery over Kundalini is competent to enlighten others. Such a Guru empowers you to realize your spiritual essence.
Shaktipat initiation awakens your Kundalini, the Divine Energy within you, so that you may attain the highest goal of human life – knowing your own Self. When awakened by the Guru, Kundalini climbs your spine from tail to top. She is the mystical force granting the power and ease of all the Svaroopa® sciences.
You receive formal Shaktipat initiation from Gurudevi twice in this weekend meditation retreat. She is a Kundalini Master, authorized to transmit this powerful initiation. She explains the process and purpose as well as how you cooperate with the inner force that is burning within you, in-light-ening you day by day.
Absolutely wonderful spiritual experience. I was so honored to meet such a great Guru and Kundalini Master; this is truly a life changing experience. - Alena T.
The Online Retreat is easier for most yogis, yet those who come On-Site enjoy Gurudevi's physical presence. In addition, after lunch on Saturday, they have a question-and-answer session with her, which is not included in the Online retreat. Online participants have a longer lunch recess during that time. Yet the Online program is powerful, plus it fills your home with Shaktipat energy. Learn more about the difference between On-Site and Online Programs here.
Your spiritual progress is accelerated by receiving Shaktipat. This inner experience leads to enlightenment sooner or later, and Shaktipat makes it happen sooner. That's the whole point!
The profound inward path of Svaroopa® Vidya Meditation begins with Shaktipat. Discover a whole new dimension to your own being and learn tools that help you bring that into your life.
When someone is ready to go deeper and learn more, this retreat with Gurudevi includes deep teachings. The transmission of Shaktipat awakens the understanding of these teachings. It created a deep sense of inner peace, opened my heart and left me feeling joyful! – Terry G
TAUGHT BY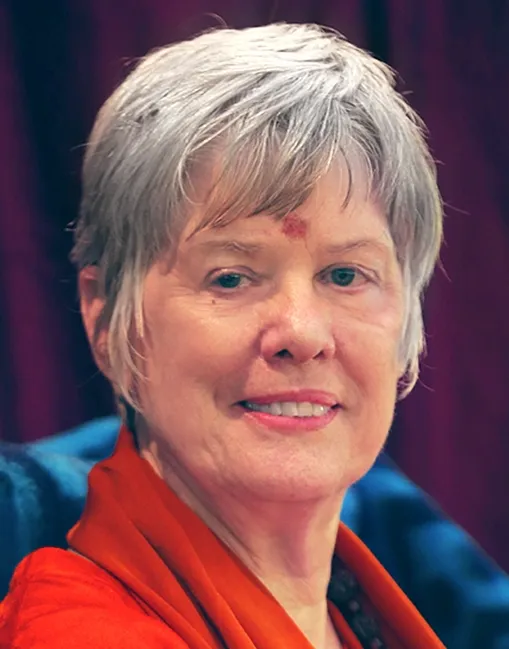 Gurudevi Nirmalananda
DETAILS
Prerequisites
None
Dates & Times
Friday September 29 2023 begins with Dinner at 5:00 pm, with retreat going from 6:00 - 9:30 pm
Saturday September 30 2023 from 6:30 am - 9:30 pm with Breakfast, Lunch, Snack, and Dinner included
Sunday October 1 2023 from 6:30 am - 11:45 am with Breakfast, also including Lunch (served at 12:30 pm)
Location
Lokananda Retreat Center
116 E. Lancaster Ave, Downingtown, PA
Online option is available here.
Course Confirmation Date
September 15 2023
We confirm the course on or before this date, when we have enough enrollments to confirm. Early rates are available until this date. We will email you with the latest updates.
Tuition
Enrollment Fees include course tuition and your housing and meals, with details on each below:
Early Tuition (on or before September 15 2023): Members*: $491.00; Non-Members: $541.00
Standard Tuition: $601.00
Housing and Meals: $242.00
Total Enrollment Fees:
Early Totals (on or before September 15 2023): Members*: $733.00; Non-Members: $783.00
Standard Totals: $843.00
Postponed H&M: Postpone your Housing & Meals until just before your arrival. Pay for your tuition (early or standard) now, then pay for your Housing & Meals 1 week before your program begins. Contact our Enrollment Team at 610-806-2119 or Turn on Javascript!.
Course fee on enrollment: Members* early: $491.00; Non-Members early: $541.00; Standard: $601.00
Housing and Meals payment: 1 week before you arrive: $242.00.
*Memberships that qualify for the discounted early rate: SATYA Membership & Monthly Donors
Scholarships, discounts and payment plans are not available for Shaktipat Retreats, and SATYA GTCs do not apply. Instead, we offer many free services and free programs with Swami Nirmalananda. You can easily access the teachings and do the Svaroopa Vidya practices without any out-of-pocket cost to you. 
More Info
Our Enrollment Advisors will be happy to connect with you and answer any questions - Turn on Javascript! or 610.806.2119

When events beyond our control cause unavoidable changes, locations and fees are subject to change without notice.
Svaroopa® Yoga
Being carried, being propelled, deeper than you can go on your own - this is the gift of Grace