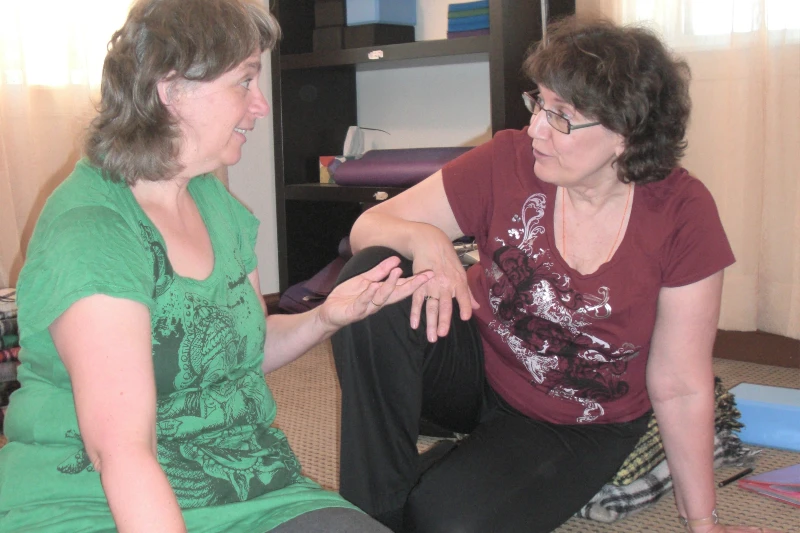 Vichara Therapist Training
86 hours On-Site & Online
Certified Vichara Therapist
Getting beyond what you think you know to discover the deeper knowing, and serving others who want the same.
Vichara Therapist Training
Our five-day professional training first empowers you to delve deeply into your own issues, tracing difficulties to their source in order to access your inner answers. Once you've gone deeply into your own mind, you learn how to truly hear other people in a new way and to help them transcend their mind.
Delving deeper into your mind creates change in your body and mind, as well propelling you deeper into the Self. - Carol W.
Vichara is one of the most direct ways I have been able to experience the Self behind my mind. - Nathan M.
The vichara process is utilized in private sessions for clients plus you can use it on yourself. Vichara endows your mind with a yogic perspective that creates clarity and ease in your life.  
Details
Prerequisites

Foundations of Svaroopa® Yoga

Certified Embodyment® Yoga Therapist

Certified Discussion Group Leader 

Shaktipat Retreat with Swami Nirmalananda within 7 months prior to the training

Be a client in two personal Vichara Sessions with a SVA Swami

SATYA Member in Current Standing

This professional training is held every 2 or 3 years

   

Trainings for Certified Vichara Therapist 

Embodyment® Yoga Therapy Training 

 

Become Certified

When you successfully complete this training with DTS, you obtain your formal certification by being a member of SATYA and completing your certification paperwork.

 
Our Enrollment Advisors will be happy to connect with you and answer any questions - programs@svaroopayoga.org or 610.806.2119