Professional Yoga Therapist Training
You benefit from our 30 years of experience in training Yoga Therapists in powerful yogic techniques that empower their clients' healing process.

Our training is formally accredited by IAYT (International Association of Yoga Therapists).  This puts you on the front edge of the profession's recognition by, and collaboration with, the medical establishment. 
Most importantly, you will know how to use yogic tools to make immense changes for your clients in a short time.
Click here to see complete info in our ATT catalogue.
Certified Embodyment® Yoga Therapist
The Embodyment®  training program allows you to dive even deeper into your own Self while also learning specific therapeutic techniques to help clients on their own journey toward healing.  – Lisha R.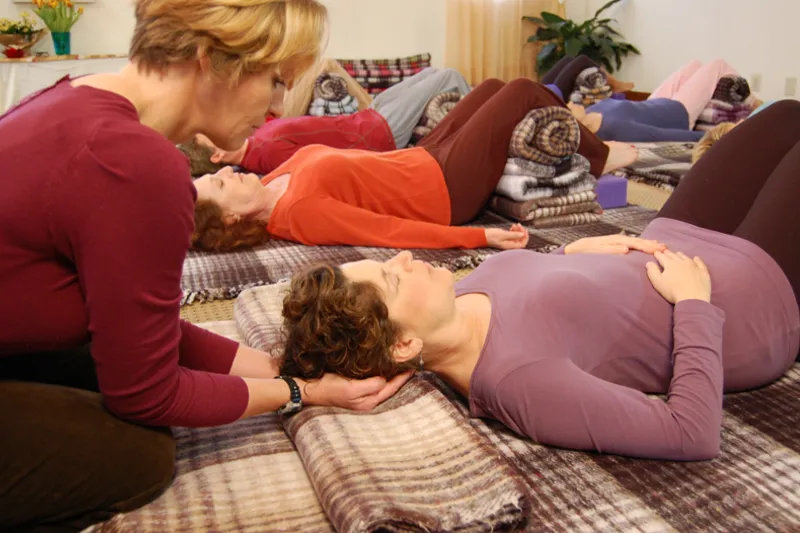 In this training, you personally receive more spinal decompression than in any other training.  Guided by our Teacher Trainers, you both give and receive sessions every day.  Your understanding of spinal anatomy and its effects on the whole body deepen as you begin to experience your spine unfurling in a whole new way.  This course significantly expands and uplifts your teaching abilities while it qualifies you to give private sessions, which radically increases your income potential.  
Yoga Text Studied: Patanjali's Yoga Sutras, Pratyabhijñahrdayam.
Certified Svaroopa® Yoga Therapist
This therapy is highly effective.  During PYT 262: Treating Pain, decades of tension were released from my body.   The sutra studies and meditations took me to a deeper level too.  So many people suffer from pain, I expect that my private client base will increase.  - Abby C.
Expand your therapeutic techniques and watch your clients heal!  Specialized poses and advanced therapeutic techniques are augmented by the way you engage their mind in their healing, using our vichara (guided self-inquiry) techniques while they are in the poses.  Deepen your knowledge of anatomy and physiology, especially from yoga's perspective, integrating the medical perspective while you learn how to lead Yoga Pain Clinics.  Gain a profound understanding of the healing process and how to guide your clients through it smoothly and easily. 
Yoga Texts Studied: Patanjali's Yoga Sutras, Pratyabhijñahrdayam.
More Info
Click to see our training track flow chart.
For more information or to get support in creating your training plan, please contact our Enrollment Advisors at 610.806.2119 or Turn on Javascript!. 
Svaroopa® Yoga
Reap the most profound results from your very first experience of Svaroopa Yoga Therapy.  Our poses and healing practices remove the blocks to your inherent health, joy and spirituality. 
Enjoy the multidimensional results promised by the ancient sages, delivered in our modern age.