Satguru Swami Nirmalananda Saraswati, CSYT, E-RYT 500, C-IAYT

We call her "Gurudevi" which means Divine Teacher.  She is the spiritual head of the Svaroopa® Vidya Ashram.  She was honored with the title "Satguru" in 2015 by the Brahmin priests in her Guru's home town of Ganeshpuri.  As a Kundalini Master and renunciant, she has dedicated her life to serving those who want to become Self-Realized.
"She has so much love, compassion, understanding, and awareness. She sees so much."  — Phil (Krishna) Milgrom, Warren MA
"Hosting Gurudevi in Brisbane, Australia, I found her wonderfully personable and relatable." — Lyndall (Leela) Madden, Bulimba QLD, Australia
As a modern-day sage and Guru, Gurudevi gives Shaktipat, awakening  Kundalini, your inner spiritual energy, through Shaktipat. She addresses your yearning to know your inherent Divinity by propelling you into it. She supports you in the process of learning to live in the recognition of your own Divinity as well as to recognize the Divine in everyone and everything. With Gurudevi as your teacher, the inner process is deep and easy.  
She pioneered the Svaroopa® Sciences, based in the ancient teachings of Kashmiri Shaivism. She learned them from her Guru, Swami Muktananda, which enlivens these comprehensive practices including:
Shaktipat
meditation
mantra
chanting
sutra study
guided self-inquiry (vichara)
breathing practices
yoga poses (asana)
and seva.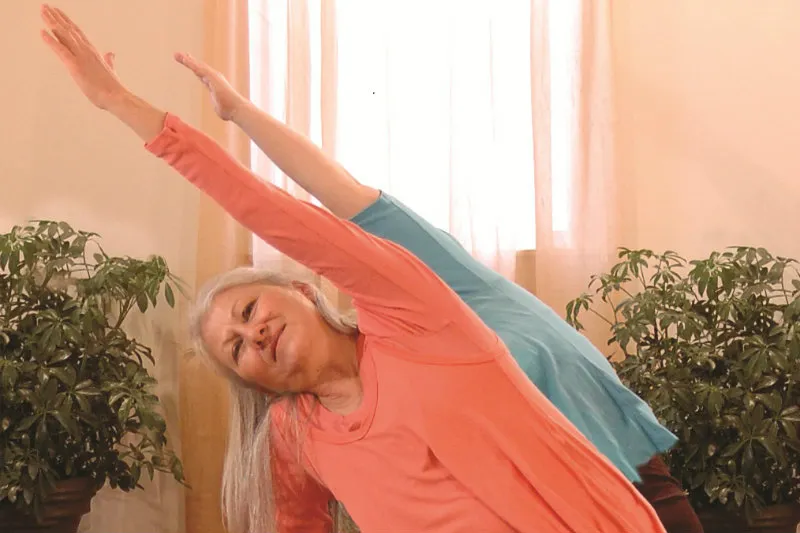 One branch of the Svaroopa® Sciences is Svaroopa® Yoga. Gurudevi created it in order to bring asana practice back to its original purpose, the awakening of Kundalini and the knowing of Self. Svaroopa® Vidya Ashram offers Svaroopa® Yoga teacher training, with Gurudevi serving as Master Teacher, directing and supporting our other Teacher Trainers.
In "Yoga, Sweat and Mysticism:" an article written for Yoga Alliance, she explains,
"Yoga itself claims to be a science. It uses proven methodology to get predictable results, just like the battery in your car. On the physical level, the methodologies provide reliable results, often likened to medical therapies, yet the sages always targeted a deeper goal… [to] become one with consciousness… to know your own Divine Self (svaroopa), inherent within you.
The results are reliable:  if you do what the sages teach, you will experience what they promise. This is yoga — pure mysticism, meaning it is about the mystery of life, the mystery that is hidden inside every human heart and being."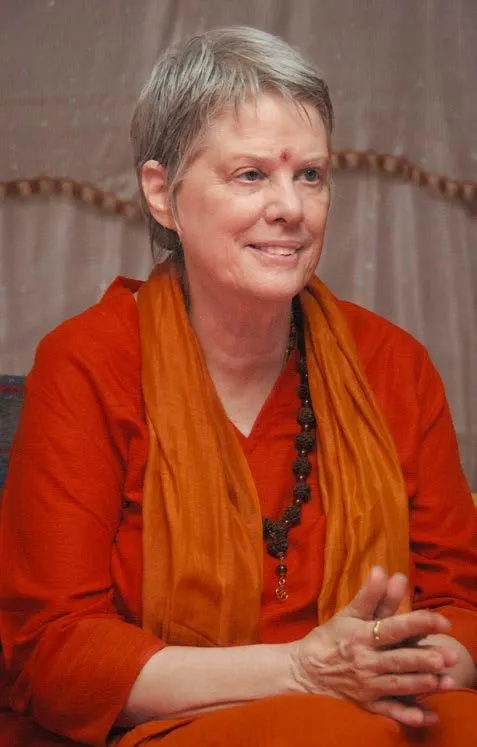 This perspective informs all of Gurudevi Nirmalananda's teaching. Warm, lighthearted and down-to-earth, she makes the mystical teachings accessible through examples from our everyday lives and relationships. Students cherish their relationship with Gurudevi Nirmalananda, as it carries them forward into yoga's ancient promise:
"Gurudevi  Nirmalananda never ceases to amaze me… she is a master teacher and is both forthcoming and real in every moment." — Rosemary N.
"Her presence is like tapping into the main stream. The hot socket." — Lori K,
"She knows my mind better than I do." — Melissa F.
Gurudevi Nirmalananda credits her own Guru, Swami Muktananda, with everything. She describes that years of living in Baba's Ashrams in the USA, Europe and India allowed her to indulge her total focus on Baba and his teachings. She says, "Six weeks before he left this world, he sent me back to America to raise my children and to teach."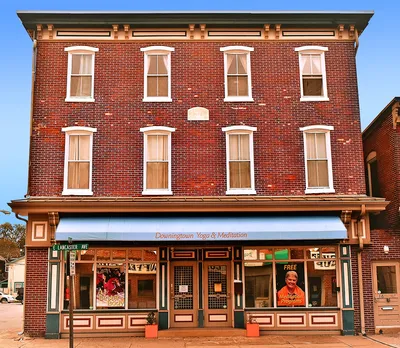 Now Gurudevi Nirmalananda ensures these ancient teachings are alive and thriving. In Downingtown PA, the Ashram provides Lokananda, your "Bliss Place," a full-service retreat facility for immersion programs, including Gurudevi's Shaktipat retreats, immersions for deeper practices, and professional training courses for yoga teachers, yoga therapists and meditation teachers.  
Her generosity is legendary, including an enormous library of free online teachings on this website. They include podcasts, teachings articles, daily e-quotes and videos.   Weekly, Gurudevi offers satsangs (free meditation programs) including chanting, meditation and teachings to guide you on your path.  She also offers online courses and weekend Shaktipat Retreats.
Under her guidance, the Ashram runs a charitable project in India.  Ganeshpuri Yoga School is offered by collaborating with OMGMT (OM Gagangiri Maharaj Ashirwadit Trust).  We fund the salaries of four full-time teachers, bringing yoga to school children in impoverished areas as well as to hospital workers and women's empowerment groups.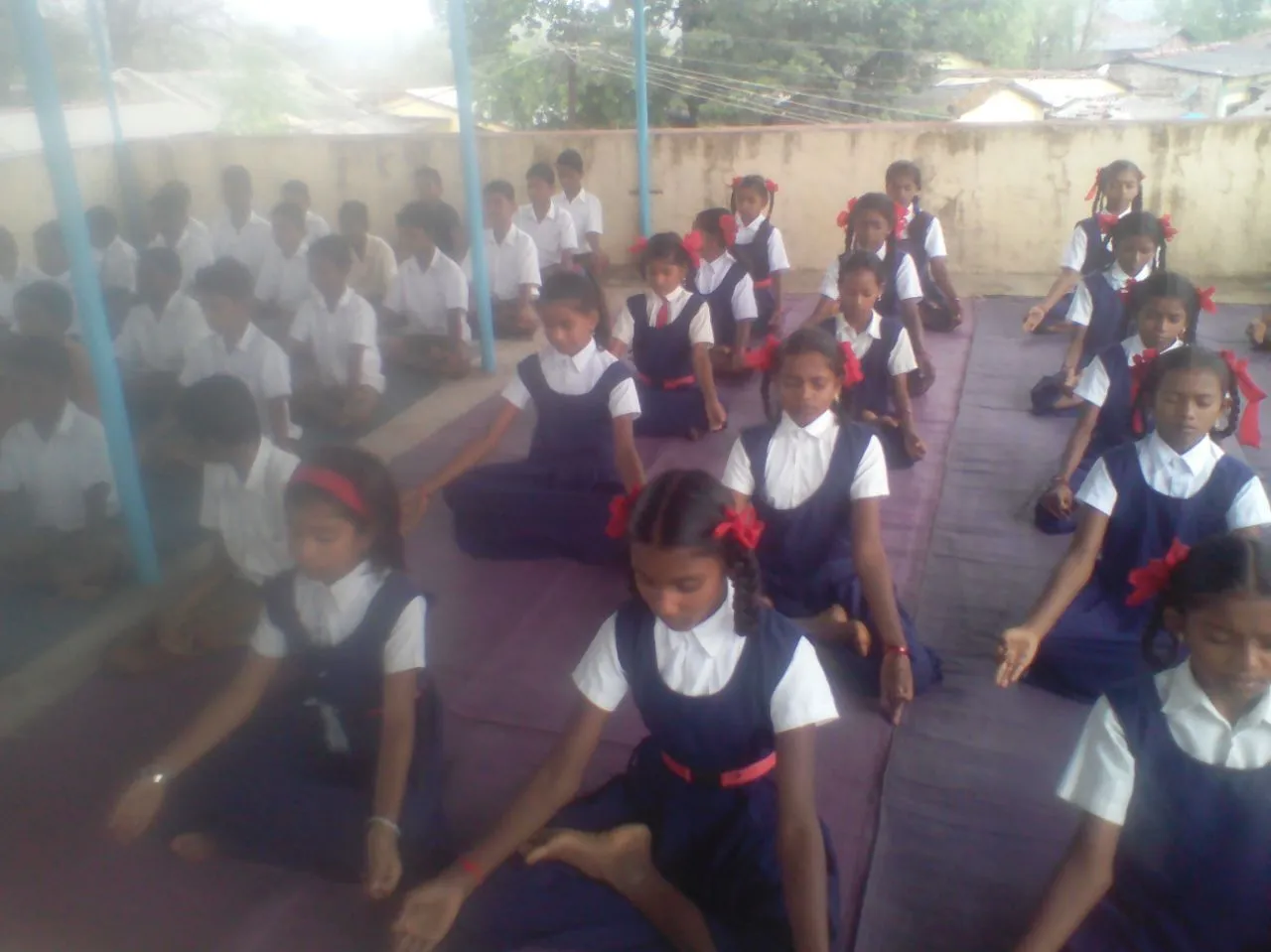 Gurudevi says, "It is such a privilege to give yoga back to the land of its origin, especially in the local schools in Ganeshpuri and the whole Tansa River valley. The native population of this region never had access to the yogic or Vedic tradition. Like Native Americans or Australian Aborigines, they were the forgotten people, now working to find their place in mainstream society in India. To bring them the heritage of their own land is a deeply fulfilling project."
CSYT - Certified Svaroopa® Yoga Teacher (650 hours)
E-RYT 500  - Experienced Registered Yoga Teacher (Yoga Alliance, 500 hours)
C-IAYT - Certified Yoga Therapist (International Association of Yoga Therapists, 800 hours)