Weekend Workshop Leaders
To give your community the transformative experience of a Yogimmersion, make contact with a Leader directly, through the email address provided at the end of each biography below.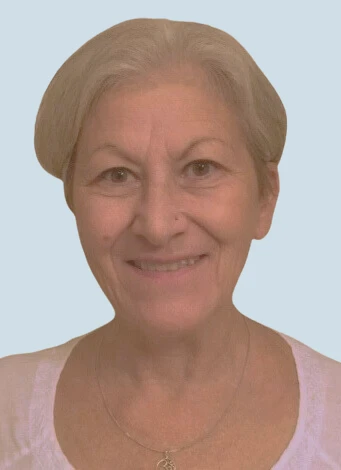 Mangala (Cayla) Allen, CSYT, RYT 500, Yogaratna
Mangala's teacher encouraged her to take teacher training if she was seeking change. She did and her experience of life has become a beautiful expression of Consciousness. She is grateful for this practice and all she has learned from Swami Nirmalananda as well as the other Ashram teachers. After completing Svaroopa® Yoga Teacher Training in 2006, Mangala taught at Plum Tree Yoga and served private clients in Roswell GA. In 2012 Mangala moved to Fort Worth, TX. 
She now offers classes and yoga therapy sessions online at our teaching center, Downingtown Yoga & Meditation.  In 2021 she was honored with the title Yogaratna, which means "jewel of yoga." This title acknowledges her inner depth, excellence as a teacher and commitment to the Ashram.
Mangala describes Svaroopa® yoga as "a compassionate and deep yoga practice." In each Weekend Workshop, under Mangala's gentle guidance, you will use the tools of Svaroopa® yoga to reveal your inner bliss and enhance the flow of grace. Asana (poses), contemplations, chanting and meditation are interwoven throughout to support you every step of the way as you develop a practice you can take home with you. Email Mangala (Cayla) at Turn on Javascript!.
Yogyananda (Lissa) Fountain, CSYT, RYT 500, Yogaratna
Yogyananda's love of both asana and meditation infuses her teaching with clarity, compassion and joy.  Having been a professional dancer, she discovered Svaroopa® Yoga's principle of tailbone release to be the key to healing years of a misaligned and very tight spine. Yet it was the revelation of the bliss of her own being that propelled her to a deep and committed path of personal practice and teaching others. Her greatest joy is to introduce you to your own Self.
Yogyananda is a Leading Svaroopa® Yoga and Meditation teacher, plus she teaches in Svaroopa® Vidya Ashram programs. For 22 years she has been teaching yoga and meditation classes and offering Yoga Therapy throughout Metrowest Boston. In 2008 she was invited to become a national teacher for Svaroopa® Yoga and Meditation, and has been enjoying leading Weekend Workshops for yoga studios across the country ever since.
Visit her website at yogaconnectionmetrowest.com, email Turn on Javascript! or call 508-525-1101. 
Swami Shrutananda Saraswati, CSYT, E-RYT 500
As one of our Teacher Trainers, you will find more information about Swami Shrutananda and her weekend workshops on our Teacher Trainer's Faculty Page. 
CSYT - Certified Svaroopa® Yoga Teacher (650 hours)
RYT 500  - Registered Yoga Teacher  (Yoga Alliance 500 hours)
E-RYT 500  - Experienced Registered Yoga Teacher (Yoga Alliance 500 hours)
Yogaratna - "Yoga Gem", awarded by Svaroopa® Vidya Ashram to select teachers.
Workshop Titles - click here for descriptions 
Be Your Bliss (Yogayananda)
Choose Joy! (Mangala)
Effortless-Effort - Enhanced & Expanded (Mangala)
Free to Be (Mangala)
The Inner Sound of Healing: Yoga & Your Breath (Yogayananda)
More Alive, More Joyous, More You (Yogayananda)
Opening Your Heart: Inside & Outside (Yogayananda)
Standing on Sacred Ground (Yogayananda)
Yoga & Meditation: The Bliss of a Quiet Mind (Yogayananda)
The Yoga of Yes (Yogayananda)
Click here for info about Ashram Retreats